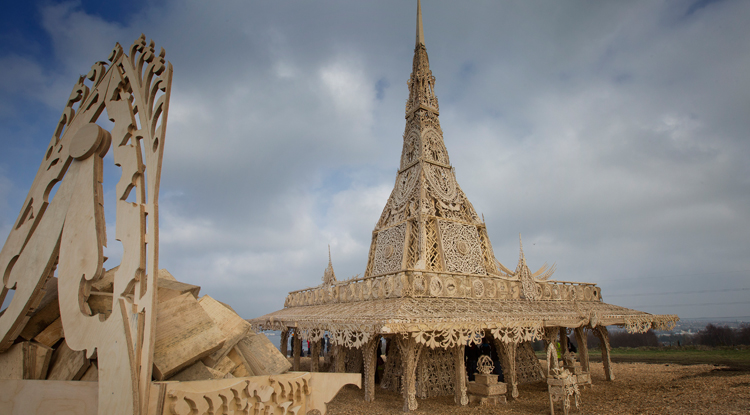 Temple belonged to everyone: from the Kickstarter donors around the world who supported the project to the many people across Derry~Londonderry who helped build postman это the structure and every single visitor who experienced it. It was the result of over two years of hard work and dedication from many people across the city and beyond.
With a lengthy build process, when completed it measured 72ft high. It's timber frame was clad with intricate panels, some of which had been designed and cut by young people in the Nerve Centre's Fablab.
Everyone was invited to leave a memory behind, let go of the past and look to the future. Up to 60,000 people visited over the seven days it was open, covering the inside of the structure and it's pillar with personal messages.
On Saturday 21st March it was set alight at 8pm by eight individuals artist David Best had got to know over the course of the build, including Tony Doherty, Rossa O'Dochartaigh, Michelle McClaren, Paula Higgins and her son, Emma Diven, Bronah Mclaughlin and Kevin Strathern. 15,000 people watched Temple burn. Watch the short film below to find out more:
Pictured: Temple, David Best, 2015. Produced by Artichoke in Derry~Londonderry. Image by Brian Morrison.