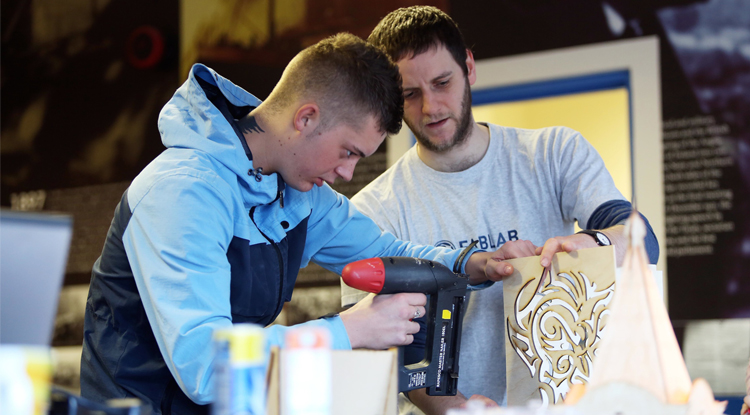 There were lots of opportunities to get involved with Temple.
We worked with partners in Derry~Londonderry - including Nerve Centre's Fablab and Waterside Neighbourhood Partnership to develop partnership schemes for the design and build of Temple.
An extensive community engagement programme, offering apprentice and voluntary training schemes, brought many Derry residents to the project:
25 young people aged 18-24 completed a week long, full time training programme leading to a qualification in OCN Digital Fabrication at the Nerve Centre's Fablab. Participants designed their own ornate panels, inspired by David Best's work. Each panel was then cut and added to a dedicated freize that ran the entire perimeter of Temple.
25 young people joined the Temple build team for 6 weeks to assist with the construction.
Workshops took place in 20 local schools where school children produced paper designs for panels which were then cut in the Fablab and added to the freize.
Workshops took place with local community groups at Hillcrest House, Irish Street and City Centre: Bogside, Brandywell, Fountain to design and cut wooden lanterns to be used on the night of the burn.
20 project participants, ranging from Californian members of the Temple Crew to local carpenters and volunteers were given camcorders to document their experiences on the build and during Temple's public exhibition, under the direction of award winning filmmaker Margo Harkin and her team. Watch some of these films on the Temple playlist on our youtube channel.
Pictured: Student Aaron Millar working towards an OCN qualification in Digital Fabrication during the design phase of 'Temple' at the FabLab, the Nerve Centre. Photo Lorcan Doherty.