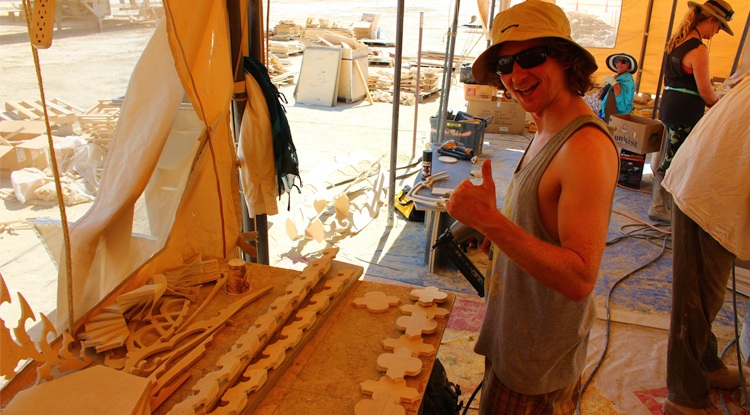 Burning Man Is What You Make It
Last year we took four people from Derry~Londonderry to Burning Man. Darran was one of them.
The offer of going to Burning Man, and being part of David Best's Temple building crew, certainly seemed like a once-in-a-lifetime opportunity. It was one that required just a few moments thought, before an intrepid 'yes'. Not knowing how I was going to get to the Nevada desert, whom I would be with or how I would actually survive for over a week was, admittedly, slightly daunting. But I could feel already that the positives would outweigh the negatives.
Luckily for me, Artichoke and Burning Man took care of the logistics of getting our four strong contingent from Derry to Black Rock City, Nevada. From the first instance, being together in a team provided great relief to us all and respite from the task in hand. We had not anticipated, at this stage, how much we would be 'looked out for' by Artichoke, Burning Man and Temple Crew.
The first sensations of awe began on the bus journey to Nevada. The scenery. Everything was different. The old cliché that everything is bigger in America rang true. The mountains, lakes, trees, roadways and trains were on a different level to what I am used to – setting the tone for what was to come.
Arriving at The Playa, Black Rock City, Nevada, the temporary city, was, after an almost ten hour bus journey, slightly overwhelming. It was hot and dusty. There was nothing here but other travellers and their kit – other Burners. I think at that point it becomes clear that to survive here, you need to be friends with your neighbor. Prior advice to read the first timers guide was racing around in my head.
The landscape is vast and unforgiving. Blistering heat by day and frigid by dawn. Trees do not grow here to provide shelter. There is not so much as a shrub, a twig or a rock in sight. There is nowhere to buy provisions. Somehow it all seems fine.
From the outset, the overwhelming aspect of Burning Man that seems to escape translation is the communal effort and responsibility that is shown by everybody there. It seems effortless. You can't see it in the pictures. It reaches out to everyone. And we can all respond. We have it inside us too. They say that what you put in is what you get out – but prepare to be surprised what so many individuals focused on the same goal can achieve. It's beyond what's conceivable by any one of them.
The principles of Burning Man are in effect all day, every day – a new adopted way of life, and it's refreshing. It's mentally stimulating and at times psychically challenging – a combination that provides a healthy state of existence. Excitement is in the desert air. Generosity, inclusion and participation – the stranger is welcome here. Nobody is weird. An open mind is required to function and interact. Immediacy and initiative are recognized and rewarded with appreciation and warm smiles from all around. Gifting is the currency here.
It is impossible to give too much at Burning Man, because what you will receive in return will exceed your expectations.
It has been interesting to learn, and pertinent to the Derry event, that the guiding principles of BM are not a dictate of how people should act or be, but a reflection of the community's ethos that has developed organically since the events inception, and written especially for the Regional Network of BM events. It is in all a relatively new concept, and nobody can feel 'left out' or be 'too late'. Burning Man is what you make it. Grasp it while you can. Express yourself radically. Your individual talents are a gift to others. With this spirit, the giver should always respect the rights and liberties of the recipient. Recognise your inner self and see through the barriers of our societies and leave no trace – 70,000 people were here and there was not so much as one cigarette butt on the desert surface.
The 'Temple' holds a special place at BM. It is somehow the spiritual centre of an event centered on being in touch with yourself and others around you. It is absolutely a mutual space. It is for you and me. It is simultaneously yours and mine. Arriving on the site three days before its completion did not prepare me for the reactions of the opening night. The decorative wood panels that I placed on the days before seemed insignificant in the scale of the 'Temple'.
The gratitude that was extended towards me for my involvement was overwhelming.
This is in essence the spirit of the event – that the effort of the individual is recognized in its ability to create something truly unbelievable in collaboration with others. David Best said to me one day about the 'Temple', "nothing you see here is perfect". Nothing under the face of it was perfectly symmetrical. It involved over one hundred volunteers to construct it. But it is harmonious. Perfectly harmonious in its stance and with it's recipients. The Temple is an emotionally charged environment. People relate to it in their own individual ways. Realisations and regrets are written on the walls. Grieving meditation and letting go takes place. Memorabilia to loved ones is left.
I think the one thing in common for everybody is that they come to nurture a part of their souls that craves to be nurtured and cleansed. We all have it somewhere, instinctually. And it will all disappear into flame, ash and clouds of smoke. And memories.
Pictured: Darran at work building the Temple of Grace, David Best, Burning Man 2014.